Gulab Modak Recipe: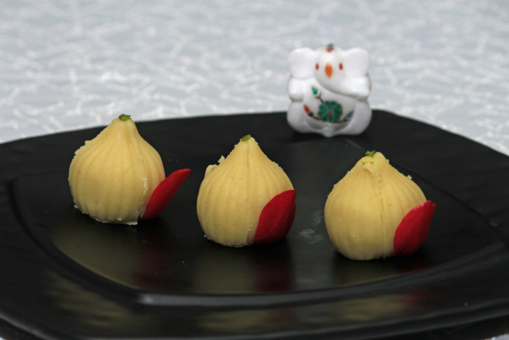 Want to make something special this Diwali? Try this delicious Gulab Modak recipe that you can literally make in just 10 minutes. You might have tried different flavours of Modal like Ukadiche Modak, Dry Fruit Modak, Chocolate Modak, Shrikhand Modak etc but have you ever tried Gulab Modak? We bring to you a super simple Modak recipe that is perfect for the festival of Diwali. You just need 4 common ingredients like- Khoya, Powdered Sugar, Elaichi Powder and Gulkand. Garnish the Modaks in the end with rose petals to make them look more presentable. You can also garnish the mithai with silver warq. Be it kids or adults, everyone will love these Gulab Modaks for sure. Store the Modaks in an airtight container in the fridge and they will easily last for about 4-5 days. Don't forget to bookmark this recipe. Do try this recipe, rate it and let us know how it turned out to be by leaving a comment in the section below. Happy Cooking!
Recipe by: Chef Arvind Rai, The Ashok Hotel
Ingredients of Gulab Modak
Tips
You can also garnish the modaks with silver warq.